PACCC provides quality care and education individually tailored for your child's development. As a community based nonprofit, we serve children in the Palo Alto community from infancy through elementary school.
News
July 11th, 2016
There are hundreds of sunscreens out there and it is hard to know which are safe or harmful to put on our children. Here is an article with some helpful guidelines.
April 22nd, 2016
The PACCC Board has appointed Lisa Rock as PACCC's next executive director!
Events
August 9th, 2016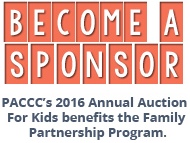 August 16th, 2016
PAUSD K-8 Schools Open August 16.
August 17th, 2016
Join PACCC in supporting this year's Palo Alto Weekly Moonlight Run and Walk.