Hoover Kids' Club Charity Drive
November 7th, 2021
To initiate gratitude, kindness and compassion for others, Hoover Kids' Club (HKC) is hosting a charity drive. The children and staff are working together to bring donated essential items to those less fortunate.
All items will be donated to the South Palo Alto Food Closet and the Sunnyvale County Winter Shelter.
You can help!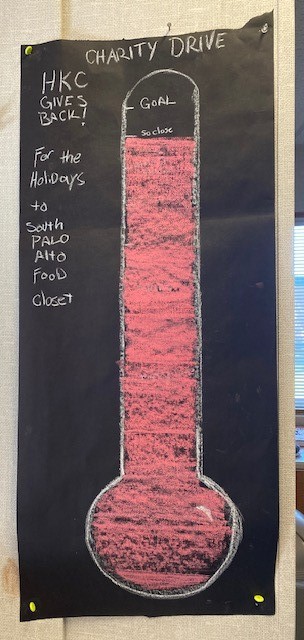 During group time, Hoover Kids' Club staff discussed what it means to be homeless or less fortunate. Using Search Institutes Developmental Assets, HKC plans to contiue conversations around Asset #9, Service to Others - Children have the opportunity to perform simple but meaningful and caring actions for others.
HKC created a thermometer to show progress of their goals. Here's how you can help the children reach their goals by donating the below list of essential items!
Drop off Locations:
Hoover Kids' Club | 445 E. Charleston Road, Palo Alto, CA 94306
PACCC Main Office | 3990 Ventura Court, Palo Alto, CA 94306
Please donate by November 22nd.
List of New Items:
Toothbrushes
Jackets
Blankets
Non-perishable foods
Face masks
For a full list of wish list items, visit Home First Services.