Support Our Work
The work of PACCC benefits greatly from the financial support of numerous local individuals and organizations. PACCC is recognized by the Internal Revenue Service as a 501(c)(3) non-profit organization. All donations to the agency are tax-deductible to the extent allowed by law.
There is a vast need for safe, affordable, high quality child care for all families living in the Mid-Peninsula region, including our neighbors with low incomes. In an effort to address this need, PACCC operates the Family Partnership Program, which leverages funding from the City of Palo Alto, the State of California (in partnership with the Palo Alto Unified School District) and its own fundraising efforts to provide high quality early childhood programs for qualifying families.
The Family Partnership Program supports families like Karla's:
"I am thankful for this program that allows my daughters to be cared for by wonderful people while I work. I do not worry when at work or at school and that helps me continue to improve my life, as well as theirs. Without this service I don't know how I could pay my bills or get my degree in accounting. I am grateful."
Donations may be made either to support the Family Partnership Program, or to benefit a particular PACCC child care center. Tax-deductible gifts may be in the form of a check made payable to PACCC, or by using PayPal to donate by credit card or online bank account.
PACCC is a charitable organization pursuant to Section 501(c)(3) of the Internal Revenue Code.
PACCC's Tax Identification Number is 94-224-2823
DONATE NOW with PayPal
Contributions can be one-time or monthly
Donate by check to:
PACCC Development Department
3990 Ventura Court
Palo Alto, CA 94306-3464
DONATE STOCK with Stock Donator
PACCC welcomes gifts of stock, a form of giving that offers significant advantages both to the donor and to the agency. PACCC's non-profit status means that you will not have to pay capital gains tax on stock that has appreciated over the years. For further information, please contact: Dicie Hinaga, Chief Financial Officer, at (650) 493-2361 ext 13, or e-mail her at dhinaga@paccc.org.
Other Ways to Donate
Amazon Smile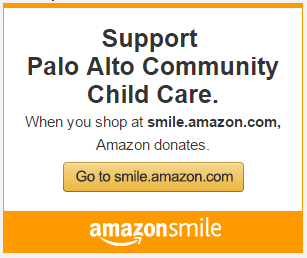 Planned Giving
PACCC welcomes the opportunity to discuss with you the additional tax advantages of making a planned gift, such as a bequest or a trust. Such thoughtful and far-sighted acts of generosity have the power to support the agency's work on behalf of young children and their families for many years to come.
Volunteer
We strive to develop consistent and mutually beneficial partnerships with volunteers from all areas of the community. By joining as a volunteer you are making the commitment to assist and support center staff through various activities and tasks. Our 19 child care centers benefit from your unique talents, expertise, wisdom, and love of play!
Volunteer Activities
Cultural Experiences
Dramatic Play
Cooking
Puzzles and Games
Classroom Organization

Intergenerational Storytelling
Nurturing and Naptime
Music and Movement
Reading
Art and Sensory Play

The Provider Connection Support
Homework Support
Administrative Support
Ventura Community Garden
Volunteers are required to receive a TB test and provide proof of influenza, pertussis and measles vaccinations.
How To Volunteer
Complete an online application.
If qualified, you will be scheduled for a time to meet with PACCC's Outreach Coordinator. During this meeting you will:

Submit proof of TB Test.
Submit immunization records for influenza, pertussis (whooping cough) and measles vaccinations. More information on required vaccinations here.
Consent to a background check and reference check.
If under the age of 18, you will need your parent to email or fax a signed consent form.
Acceptance of volunteers is contingent upon meeting the above requirements and the needs of the centers. Completing an application does not guarantee acceptance into the volunteer program.
For questions please contact Beatriz Pastor at bpastor@paccc.org or by calling (650) 493-3113.
Supporters and Partners
City of Palo Alto
Palo Alto Unified School District
Kiwanis of Palo Alto
WestEd E3 Institute
Palo Alto Weekly Holiday Fund Grant Recipient