Board Member Highlight | Hilary McDaniel
April 15th, 2023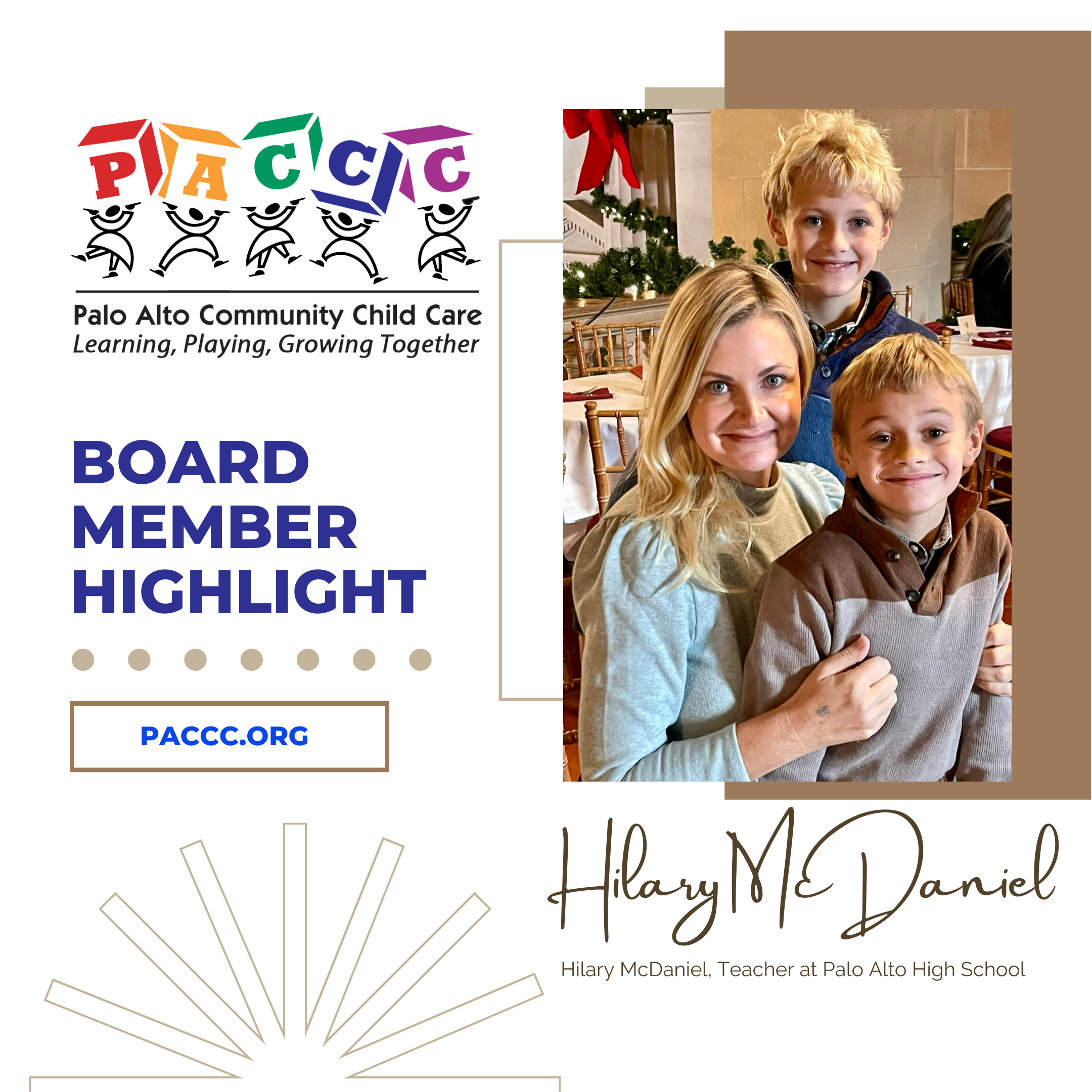 Hilary McDaniel
, an ardent proponent of early childhood education, joined the PACCC Board in 2019. As a mother of two children who attend PACCC Kids' Club, she understands the essential role of quality youth programs and their impact on young children's social-emotional development. With over 21 years of experience as a high school Social Studies teacher, Hilary established the Paly Child Development Pathway in 2014. This innovative pathway offers students college credit, career exploration, and valuable hands-on experiences working with young children. Hilary's commitment to fostering curiosity, building connections, and nurturing positive learning communities has made the Child Development Pathway an award-winning and impactful program.
As a PACCC Board Member, Hilary is committed to ensuring that PACCC continues to create a supportive and inclusive environment where children thrive, educators are valued, and families are supported. She believes in the importance of community collaboration to create systems that prioritize the well-being of children and families. She also advocates for improved wages for early childcare teachers and increased access to ongoing education and training. Hilary's insights and contributions to PACCC's strategic planning process will help guide the organization's growth, ensuring that its programs effectively address the community's evolving needs.
Recently, Hilary was an honoree of The Santa Clara County School Boards Association Hoffman Award! The award recognizes Palo Alto Unified School District's Early Childhood Development pathway program for incredible success! The District's Director of Innovation and Agility, Dr. Jeong Choe, recognized the leadership of innovative teacher, Hilary McDaniel, who has been instrumental in providing unique experiences to students.

The Hoffman Awards were initiated in 1984 by the Santa Clara County School Boards Association to provide recognition of successful school programs that have a significant impact on student success in the county. Named for the former County Superintendent (1967-84), these awards exemplify Dr. Glen Hoffmann's strong belief in educational leadership as the key factor in educational reform.

Each fall, Districts are invited to identify programs they consider worthy of commendations and show consistency with a free, public education for all students. PAUSD's program will be honored at an upcoming awards ceremony this May.